Clean innovator 240ml

All–In–One Cleaning & Coating Spray(Conforms to MIL–P–5424/Federal Specification PP-560 TYPE–1):
Water-repellent spray (foam) to help helmet, automobiles, motorcycles, bicycles, jet skis, plastic parts keep clean and protect surfaces from environmental attack and ensure good visibility. This product's coating (silicon resin) provides lasting protection and is great at repelling water, improve visibility in rain, night riding, insect splatter or bird droppings. Caution: May worsen or damage if previous coats on the mirror has been peeled off (stripped) The surface must be cleaned of dirt, pollutants, scratches and swirls for the best glossy appearance before applying. 240ml for car wash (7-8 passenger cars, about 30 bikes)

De Extreme pressure grease 100g

Load and heat resistant grease:
This product serves excellently; Anti–Friction, Protect metal surface and Resistant to high pressure loads by forming a coating that prevents two metal surfaces from welding together under the high temperature and high pressured environments. Suitable for lubricating high-speed bearings, high-load metal sliding parts, and gears with high loads, and protecting parts. The viscosity is set to a general value of "2" to maintain the adhesion and sealing properties originally required for grease. Operating temperature range: -15 to 270 degrees Celsius Stable performance can be demonstrated over a wide range. .

Marine Lubricant 480ml

Strong rust prevention and lubricant :
Exceptional rust preventive lubricant is developed to maximize corrosion and lubricating performance under severe conditions such as seawater. Surely solve problems that could not be achieved with conventional rust preventive lubricants. The strongest rust-preventive lubricant with excellent seawater resistance and effect on wet metal parts. Intended Use: Anti-rust lubrication for chains, gears, bearings, shafts and other metal sliding parts. Loosened bolts and nuts. Recovery of electrical contacts such as battery plugs and ignition keys and usable as parts cleaner.

CPC Chain & parts cleaner 840ml

Slow drying chain & parts cleaner:
Slow-drying degreasing detergent developed with Vipros' original stock solution. This cleaner penetrates slowly and the unique cleaning solution dissolves oily dirt quickly. Compatible with degreasing and cleaning of various parts; chains, bearings, brake blades, and various seal chains. Unlike general chain cleaners, no oil remains after drying, so there is no need to degrease again, improving work efficiency. * Also effective for sticky dirt (after sticker paste). Unlike quick-drying cleaners, water drops are unlikely to occur when vaporization heat is generated, and the complete degreasing type improves workability when assembling suspension forks and various parts.

Cab & injector cleaner 420ml

Combustor cleaning agent:
Moose type. Combustor cleaning agent. Moose type. Removes gum, varnish, sludge, and carbon stuck to the carburetor and combustion chamber. A mousse-type cleaning agent with good foaming properties fixes and cleans in dirty places. It can be cleaned more effectively by immersing it in stubborn fixed dirt for 1 to 5 hours.

SPEARL Liquid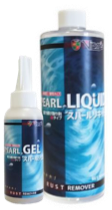 Non-polishing type rust remover:
Non-polishing type rust remover. Rust is removed by pharmacological action without using abrasives. Since it does not cause excessive wear, the accuracy of the parts is not reduced. Apply to rust and leave it for 5-10 minutes before cleaning. Stubborn rust should be lightly rubbed with a brush after application and repeat this process. Please rust-proof with Marine Lubricant after installation. Gel type for pinpoints such as threads. The liquid type is used for removing rust in a wide range such as overhaul. * Basically effective against red rust on steel products. If special surface processing is applied, it may be removed along with the processing. We recommend that you use it in a conspicuous place.

De Graissage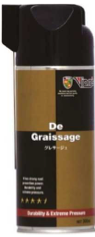 High load and durable chain oil:
A non-chlorine product developed with a focus on durability. Effective in harsh environments such as high rotation and rainy weather, ideal for long-term lubrication of chains, wires and bearings. It also supports seal chains. No thickener is used to reduce friction.
1. The extreme pressure additive Teflon is blended with the ester base oil to form a strong three-layer film, which is chemically adsorbed on the metal surface to protect parts such as chains, bearings and sprockets from metal friction. (temperature -53 ℃ ~ + 250 ℃)
2. Despite being a semi-wet type (low viscosity), it exerts its performance in various scenes, such as exceeding a load of 1,000 kg in an extreme pressure test (film strength) and exceeding a load of 900 kg even in a water spray state.
3. As it does not use chlorine-based extreme pressure additives, it prevents metal oxidation.
4. Reduces metal friction and suppresses heat generation and burning.
5. Effective for extending the life of parts such as chains and bearings.

RUST BLIZZARD

In this product:
-42 degrees Celsius coolant instantly shrinks rusted bolts and nuts and high-performance osmotic oil flows into micro gaps, making it easier to loosen bolts and nuts.